Kansas State at Mississippi State Preview
In what has all the ingredients for the best game between teams that aren't in the top 25, this game will feature two teams that want to run the ball down your throat. The style of offenses couldn't be any different, one team wants to control possession and limit the time their defense is out on the field. The other wants to take the top off the defense to create running lanes. While both of these teams want to run the ball, they do it very differently. Kansas State will throw different running backs at the defense, but with Mississippi State you're going to get a healthy dose of Mr. Kylin Hill the SEC's leading rusher through 2 weeks.
Offense Breakdown
For Kansas State, it's simple, run the ball and control the clock. In their first two games of the season, they're averaging 58 rush attempts per game. James Gilbert leads the way with 26 carries for 218 yards and 3 touchdowns, Harry Trotter has run the ball 19 times for 76 yards and 2 touchdowns, while Jordon Brown has 15 carries for 113 yards and 2 touchdowns. Kansas State will look similar to how Louisiana Lafayette did, in how they utilize their running backs. On the flip side, QB Skylar Thompson has only thrown the ball 35 times this season. He's 26-35 for 363 yards and 3 touchdowns, with Malik Knowles being the beneficiary of 2 of those touchdown passes. Knowles is the leading receiver for Kansas State, he has 8 receptions for 125 yards to go along with those 2 touchdowns. As for other WR threats, Chabastin Taylor has 5 catches for 55 yards and Dalton Schoen has 4 catches for 77 yards and a touchdown. Up front, it's going to be a veteran group of offensive linemen. All 5 starters for Kansas State on the offensive line are seniors, with 1 player being a grad transfer. It's not the first time Mississippi State has seen an offensive line starting all seniors, they did so in their first game of the season. When it comes to third down conversions, Kansas State has been extremely successful through 2 games. They've converted on 19-28 third downs (67.8%), while they're 2-3 on fourth down. When they've entered the red zone this season, they've scored touchdowns on 10 of their 12 trips. Only one trip ending without any points.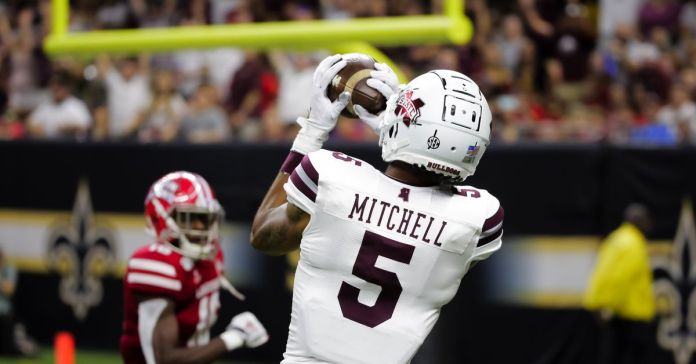 As for Mississippi State's offense, the question of the week has been will Tommy Stevens be ready to go for Saturday's game? While there is not a definitive answer for that, Mississippi State usually does not make injured players available to the media. Tommy spoke to the media on Tuesday and said he feels good to go. Operating as if Stevens will suit up and be close to 100%, we saw an offense last week in the first half that looked like a well oiled machine while Stevens was in the game. Expect much of the same again this week. Kylin Hill is going to be the focal point for Kansas State's defense, especially after he rushed for over 200 yards against them a season ago at K-State. With that, however, comes what has been the biggest improvement from a season ago. The passing game of Mississippi State. If Stevens is close to 100%, Mississippi State should not have any problems moving the ball considering how aggressive Kansas State will play to contain Hill. A player to watch in the receiving game is Isaiah Zuber, the former Kansas State WR. Zuber, of course, graduated from Kansas State and transferred to Mississippi State this past spring.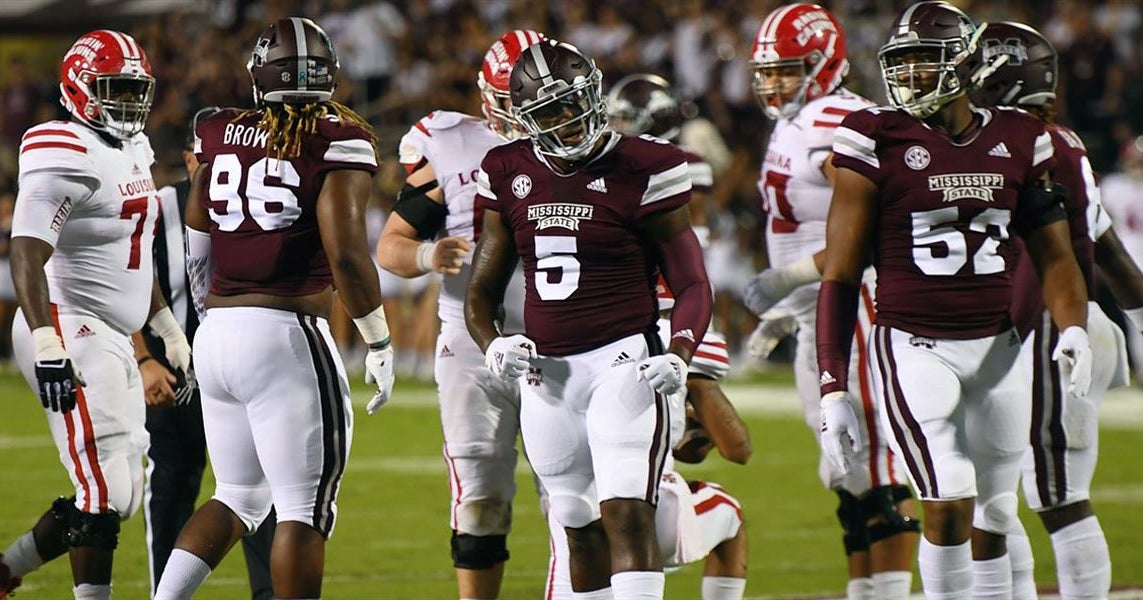 Defense Breakdown
After what has been said about the Kansas State offense and how run heavy they are, it's easy to see that their defense has not spent much time on the field through 2 games. The Wildcat defense has been on the field for a total of 85 plays through 2 weeks of the season. That's really unheard of, no matter who the opponents are. Kansas State's defense has only 1 sack through 2 games, while forcing only 3 turnovers. They have allowed 4.9 yards per carry and 105.5 yards per game on the ground. On the back end, they've only allowed 102.5 passing yards per game. There is a chance, however, that Kansas State is without 2 of their best defensive players for the game. Defensive end Wyatt Hubert and cornerback Walter Neil Jr. were injured in last week's blowout win of Bowling Green, both with undisclosed injuries. Hubert has 4 tackles so far this season, while Neil has 2. With how little the defense has been on the field, Da'Quan Patton is the team's leading tackler with 7.
On the Mississippi State side, it will be another week of getting a young defensive line game reps. All eyes this week will be on the youngsters up front to be more physical and make it tough for Kansas State to run the ball. A game like last week showed that they improved from week 1 to week 2, now can they make another jump and be better than they were a week ago? Only time will tell, but if State can get out to an early lead like it did vs Southern Miss then they'll have the Wildcats right where they want them. Heading into the season, everyone knew the strength of this defense was the veteran secondary. If State can create enough push up front to disrupt Kansas State's running attack and force Skylar Thompson into throwing it more than he's used to, then it's going to be a big win for that Bulldog DL group heading into SEC play next week.
Other Nuggets to Ponder
Kansas State eclipsed 500 yards in back to back weeks for the first time in school history.
Kansas State head coach, Chris Klieman, won 4 national titles at North Dakota State before replacing the legendary Bill Snyder this season.
Last week, Tommy Stevens started the game 9-9. The last QB to start a game 9-9 or better for Mississippi State was Dak Prescott when he started 12-12 against Arkansas in 2015.
Pro Football Focus, PFF, released their top 10 Heisman candidates through 2 weeks, Mississippi State's Kylin Hill came in at number 10.
Final Analysis and Prediction
It's hard to really get a grasp who the better team is, on paper, but when watching these 2 teams, the talent and skill level leans Mississippi State. If Mississippi State can keep their offense on the field for extended drives and force the Kansas State defense to play more than they have so far this season, the Mississippi heat and humidity will set in during the second half. Expect the first half to be a fight and be a little unnerving, but the SEC conditioning will win out once again this week. Final Score: Mississippi State 34, Kansas State 21
For more Mississippi State news and updates, follow us on Twitter @dickinsonjc and @SocialSportsMS