Mississippi State at Auburn Preview
Auburn comes back home after going on the road to College Station and defeating Texas A&M, while Mississippi State hits the road to the Plains after a much needed win over Kentucky at home. Could this possibly be a trap game for Auburn after their win a week ago and with a trip to the Swamp next weekend? There's an argument for that to be the case but with a sellout, primetime kickoff, and the SEC home opener for Auburn it's unlikely they're overlooking the Bulldogs after what happened in Starkville a year ago. Mississippi State rushed for 349 yards last season when these two teams met, something the Tigers haven't forgotten.
Offense Breakdown
Auburn starts a true freshman, Bo Nix, at quarterback. Nix has gone 56/104 (53.8%) for 5 touchdowns and 2 INTs. Nix has gotten more involved in the run in recent weeks, he's rushed 28 times for 117 yards and 1 TD. It's easy to forget Nix was a highly touted dual threat QB out of high school, he can and will run the ball on Saturday night but it may not be as much as Garrett Shrader would. It's highly possible to see Joey Gatewood take snaps at QB, more so in short yardage situations and inside the 10 yard line. Gatewood has rushed 20 times for 128 yards (6.4 yards per carry) and 3 TDs. When it comes to running backs, the name to remember is Boobee Whitlow. Whitlow makes this offense go, he has 408 yards rushing and 4 TDs on 82 carries so far this season. He will be the difference maker for Auburn if the Tigers are to win. Shaun Shivers and Kam Martin will also see time at running back, they've combined for 236 yards and 1 TD on 44 carries. Auburn's big play threat is Anthony Schwartz, he has the speed to compete in the Olympics in the 100m dash. When it comes to receivers, Eli Stove has been Nix's go to with 17 catches for 150 yards and 2 TDs. Nix has also developed good chemistry with Seth Williams, Williams has 9 catches for 128 yards and 2 TDs while Will Hastings has 7 catches for 124 yards and a touchdown. Auburn isn't a downfield passing team, but they have attempted some deep throws that Nix hasn't been able to hit yet. Knowing State's history at Auburn, that will likely change Saturday night.
Who's starting at QB for Mississippi State on Saturday? Not a clue. Joe Moorhead said on Wednesday during the SEC teleconference that Stevens looks like he did before the injury, but realistically no one will probably know who's starting until warmups on Saturday. If it is Stevens, the Bulldogs will have a better chance of pulling off the upset because of his ability to throw it downfield accurately. If it is Shrader, the game plan from last year should be used again. In all honesty, whoever the QB is just needs to give the ball to Kylin Hill and let him go to work. Hill has rushed for 551 yards and 5 TDs on 91 carries so far this season. He is Mississippi State's offense, no matter who the QB is, but things would likely be easier for Hill if Stevens is the guy on Saturday. Osirus Mitchell would also benefit from a healthy Stevens since all 3 of Mitchell's receiving TDs have been with Stevens at QB. Mitchell has 17 catches for 244 yards to go along with his 3 TDs. Osirus will be the x-factor for the Bulldog offense in every game this season, if he has a big game a Mississippi State win will likely be the outcome.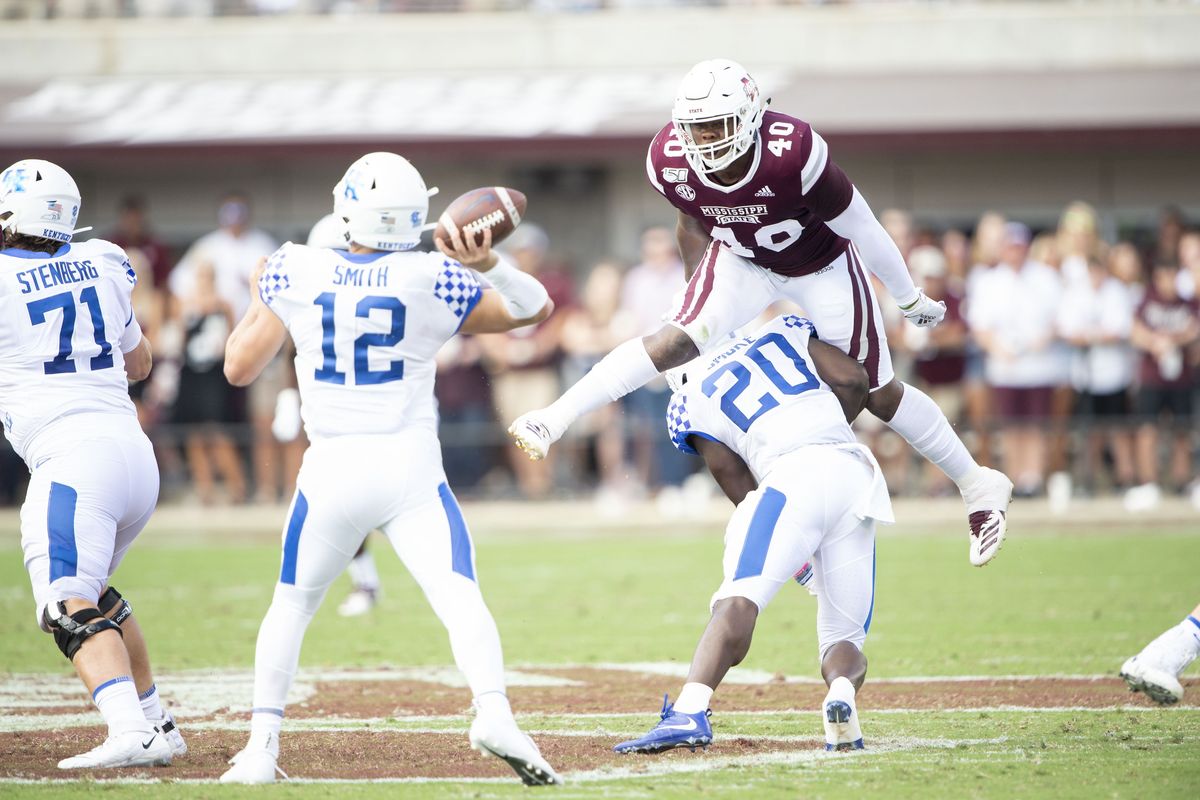 Defense Breakdown
Script has flipped this year, at least so far when it comes to these two teams' defenses. Mississippi State's defensive line was dominant in the game last year, this year it appears to be Auburn's defensive line that will be dominant on Saturday. Derrick Brown, projected top 10 pick, leads the way for a very talented Tiger defensive line. He collected both of his sacks last week at A&M, but as is usually the case a talented defensive tackle in the SEC makes more of an impact than what shows up in the box score. Auburn's run defense is one of the best in the country, only allowing 89.5 rushing yards per game. As far as pass defense, they've allowed 227.3 yards per game. When a team's strength is run defense, while the opponent's strength on offense is running the ball something will have to give. Auburn's giving up 15.8 points per game,
On the Mississippi State side, they're allowing 143 rush yards per game. That does not have fans feeling comfortable, especially when facing a team that rushes the ball for 259 yards per game. On the back end of State's defense, however, that's where the Bulldogs have their advantage. With Cam Danztler leading the way, opponents have thrown for 214 yards per game on the secondary.
The suspensions due to violation of team rules will be a factor in this game. Does Lee Autry play in his third game of the season this early in the season? Does Willie Gay and Marcus Murphy play in their second game? Those are questions that won't be answered until Saturday, but have to believe Moorhead and his staff will at least play Willie Gay and Marcus Murphy.
Other Notes for this Week
Gus Malzahn said Mississippi State embarrassed Auburn last year, pretty much hinting at the fact this is a revenge game for Auburn.
If Garrett Shrader is the starter on Saturday, fans will see the best 2 freshmen QBs in the country.
Bo Nix is the son of former Auburn QB Patrick Nix, Bo was coached by him throughout high school. Good chance that's mentioned at least 100 times during the game.
In 9 games this decade between these teams, Auburn leads the series 5-4. 3 of those Auburn wins were one possession games. 2010 was a 17-14 Auburn win, 2011 was when Auburn stopped Chris Relf short of a game tying touchdown, and 2013  was when Nick Marshall did what Nick Marshall did on more than one occasion that season.
Auburn has only scored over 30 points once this season, when they scored 55 against Kent State.
Final Analysis and Prediction
Auburn is a 10.5 point favorite, the only two teams they've beaten this season by 10 or more were Tulane and Kent State. Auburn's key to winning this game is get an early lead, like they did a week ago, and play solid defense. If this is really another "Auburn Jesus" season for Gus, then this game has to end with an Auburn victory.
Entering this season, most people had this as a loss with State heading into their bye week 4-1. This is really a free game for State, no matter how you spin it. If they lose, then it's not surprising and doesn't hurt the outlook of the season. If they win, however, that loss to Kansas State will be a distant memory and the outlook completely changes. Can the Bulldogs go into a place that's been a house of horrors for them and win? Sure. Will they? Not a chance.
Final Score: Auburn 27, Mississippi State 10