Previewing Kentucky at Mississippi State
Both teams are coming off disappointing home losses where both teams had second half leads. There a lot of similarities when it comes to these two football this season. Both teams lost a lot on defense from a season ago, both have injured quarterbacks, and both rely on the running game to get their offense going. If there's going to be a clear cut advantage in this game, it'll be Mississippi State's defensive line vs Kentucky's offensive line. The Wildcats' offensive line allowed only one sack last week against a very talented Florida defense, and with State's inability to consistently get to the QB and deliver a sack this could very well be the difference in the game.
Offense Breakdown
The starting quarterback heading into the season for Kentucky was junior Terry Wilson, a player many Wildcat fans were hoping would improve in the passing game. Unfortunately, Kentucky lost Wilson for the season due to a torn patella tendon in his knee. Mark Stoops turned to former Troy QB Sawyer Smith last week against Florida, a game where Smith went 23/35 for 267 yards, 3 TDs (1 rushing), and 3 INTs. Other than the interceptions, if Kentucky wants to leave Starkville with a huge win they'll need a similar performance from Smith this week. As running backs go for Kentucky, Benny Snell won't be one of them since they lost him to the NFL this past offseason. The Wildcats will primarily turn to Kavosley Smoke and Asim Rose. Smoke has 251 yards rushing on 34 rushes with 2 TDs, while Rose has 192 yards on 47 rushes and 2 TDs. Even though Sawyer Smith isn't a threat in the run game like Terry Wilson was, he can still make plays with his feet as you can see with the rushing TD a week ago. On the outside, the main target for Smith will be Lynn Bowden Jr. The WR has 20 catches for 201 yards and 1 TD, while Ahmad Wagner has 9 catches for 198 yards and 2 TDs. Obviously, Wagner is the big play threat for the Wildcats at WR while Bowden Jr. is the more dependable WR.
As for Mississippi State, the health of QB Tommy Stevens is going to be the difference in a State win or loss. If healthy, Stevens can keep the defense honest enough to create more space for big play threat Kylin Hill. If he isn't healthy and the Bulldogs have to turn to freshman QB Garrett Shrader, the space for Hill will diminish and make it really difficult for the offense to move the ball. Mississippi State fans have seen what this offense is capable of with Stevens at QB, while also seeing the same inconsistency it showed a season ago with the freshman Shrader at QB. The Bulldogs have the playmakers to beat Kentucky, same as they did vs Kansas State, but the outcome of this game will be decided by the QB position.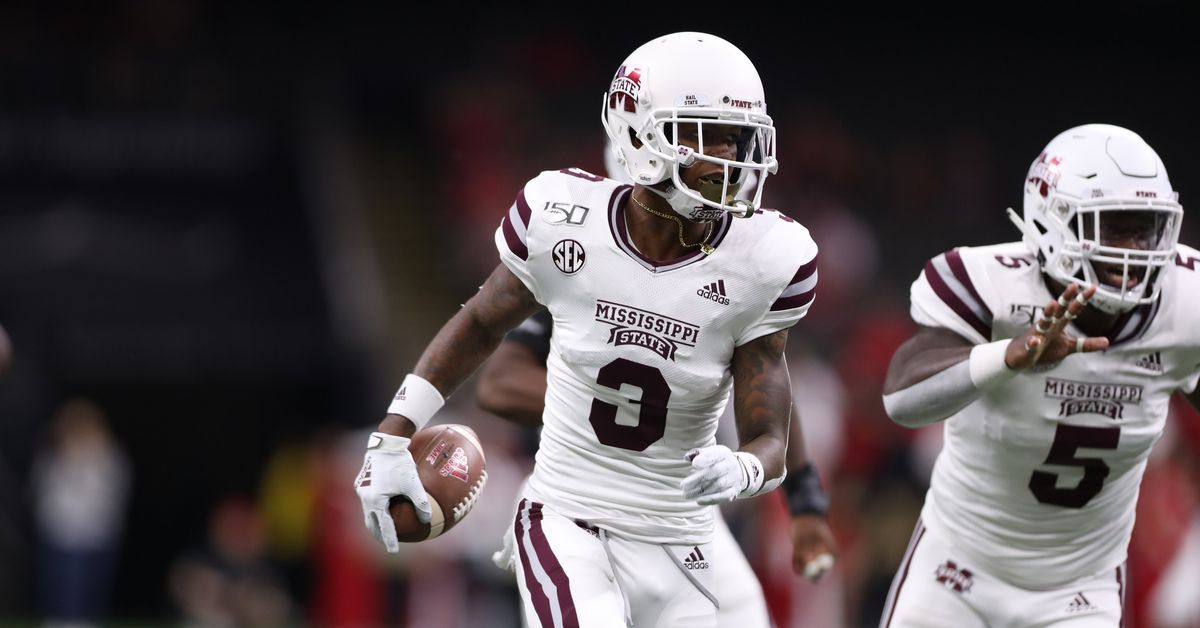 Defense Breakdown
If you've watched Kentucky football while Mark Stoops has been the head coach, then you know that defense will rarely be a problem for the Wildcats. Just like Mississippi State, they're replacing a lot of talent on that side of the ball but mainly in the secondary. Kentucky has the size on the defensive line to make life difficult for running back Kylin Hill, he only had 14 yards rushing at Kentucky a year ago, and quarterback Tommy Stevens. Although Josh Allen is no longer at Kentucky, the Wildcats can still pressure the quarterback and force quicker throws than normal. The biggest weakness for the Wildcats is their pass defense. They gave up 300 passing yards to Florida last week, an offense that isn't known for their ability to throw the football. As for players to watch on Saturday, Kash Daniel is the guy Kentucky fans and players look to for a big play and for leadership.
Bend but don't break. That's how this year's Mississippi State defense is described. Last week, the Bulldogs' defense allowed 146 yards rushing to very good run heavy Kansas State team. If they can keep Kentucky below their season average of 185 yards per game, it would almost certainly mean a Mississippi State win is the outcome. A reason to believe Mississippi State can keep them below 185 is that State fans will likely see Willie Gay Jr. and Lee Autry on defense this week. Gay has been suspended for the first 3 games, while Autry has been suspended for 2 of those games due to "violation of team rules". Having those 2 guys back, whether it's this week or somewhere down the line, will definitely help the run defense and the ability to get after the QB. Another key piece to the defense, Cam Dantzler, did not play in last week's loss due to a hip injury. If Dantzler can't go again this week, expect to see more of freshmen Jarrian Jones and Martin Emerson at cornerback.
Interesting Facts Heading into this Game
Kentucky has not won at Mississippi State since 2008, the Wildcats haven't won back to back games in this series since 2005-2006.
Mississippi State is 1-2 against the spread this year, they're currently a 6.5 point favorite on Saturday.
Garrett Shrader's effort on 4th and 16 last week appeared on NBC's Sunday Night Football.
Kentucky LB Kash Daniel was accused of intentionally trying to hurt Florida QB Feleipe Franks last week, a game in which Franks left due to a dislocated ankle. Daniel came out and said, "Do I talk a lot of crap? Absolutely. Do I bump a dude here and there to get underneath his skin and talk while I'm doing? Absolutely. That's part of my game. It's what I do. But am I out there to deliberately hurt somebody? Absolutely not."
Joe Moorhead said on Monday that Tommy Stevens felt better Sunday and Monday this week, than he did on Sunday and Monday of last week.
Final Analysis and Prediction
You could say whoever wins in the trenches will win this game, it's often the case and chances are you'll be right. For this week, however, the play of Sawyer Smith and Tommy Stevens will determine who comes out of this conference game with a win and who comes out behind the 8-ball. Smith has the tougher task because Mississippi State's secondary is better than Kentucky's, whether Cam Dantzler plays or doesn't play. On the flip side, Stevens' health is going to be vital for the maroon and white if they want to begin conference play 1-0. Final Score: Mississippi State 31, Kentucky 27
For more updates and insights into Mississippi State sports, follow J.C. Dickinson on Twitter at @dickinsonjc.