2019 Mississippi State Football Preview
Heading into head coach Joe Moorhead's second season, after what many consider a disappointing first year for the former Penn State offensive coordinator, there are question marks surrounding both sides of the ball but mainly the offensive side. No fault to Moorhead or former quarterback Nick Fitzgerald, the offense could never get enough production in the passing game for the Bulldogs to open up the playbook more. In a scheme that relies on reads and passing the ball effectively, the Bulldogs offense wasted the best defense in the country a year ago. In hopes to not have another disappointing season on offense, Coach Moorhead went into the transfer portal and came out on the other side with a quarterback that played for him at Penn State. It's hard to determine at this stage whether that move will improve the offense, but Tommy Stevens is going to be the guy to try and turn things around in his final year of eligibility.
Offense Outlook
Mississippi State will look to run the ball more with junior RB Kylin Hill this season, but for the running game to be as successful as they want it to be Tommy Stevens will have to keep defenses honest in the passing game. In this type of offense, it's imperative for the Bulldogs to have a consistent passing game so it will allow one of the best running backs in the SEC to have the year everyone is expecting him to have. Hill showed glimpses last season of what he can do, now he's going to be asked to carry the load consistently in the running game while also being able to catch passes out of the backfield.
Not only will the offense depend on Stevens to be consistent in the passing game, but they're also going to have to depend on the wide receivers to catch passes on a consistent basis. With new wide receivers coach Michael Johnson and Kansas State grad transfer WR Isaiah Zuber, there's no excuse for the wide receivers to not take the next step and become reliable options for Tommy Stevens. The talent in the wide receiver room is good enough to produce at the SEC level, but for whatever reason a year ago that group struggled all season with dropped passes and poorly run routes. Bulldog fans should be optimistic when it comes to the WRs because they can't be worse than they were with Fitzgerald at QB.
On the offensive line, Mississippi State returns 3 starters in Stewart Reese, Darryl Williams, and Greg Eiland. In the SEC it's important to have experience on the offensive line. The big question for the offensive line will be who starts at left guard and left tackle, the battle at left guard has been between Dareuan Parker and Michael Story. While the battle at left tackle is between Tyre Phillips and Kwatrivous Johnson. 3 of the 4 guys have played against SEC opponents so there is experience at both open positions. Offensive line coach Marcus Johnson has been raving about his guys throughout training camp, so Bulldog fans should be able to relax and not worry about those 2 positions being up for grabs. There is definitely more question marks on the offensive side of the ball than defense, which is supposed to be the strength of the team.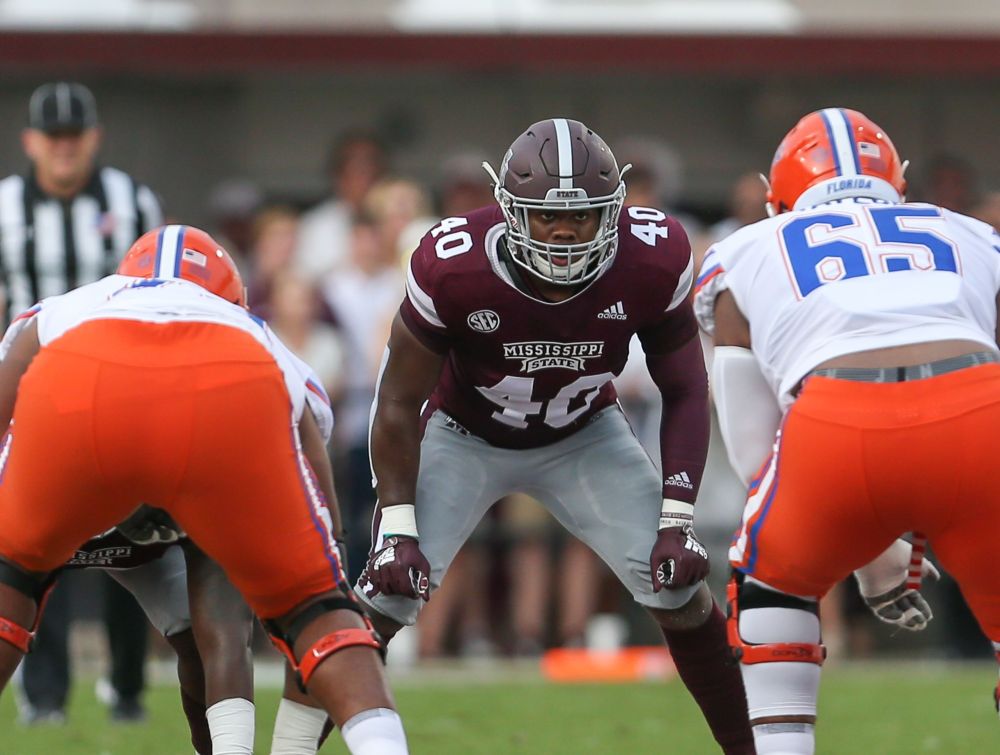 Defense Outlook
Mississippi State posted the schools best ever defense a year ago, but one thing they didn't do as well as they wanted was to force turnovers and help a struggling offense out with a short field. After losing guys like Jeffery Simmons, Montez Sweat, and Johnathan Abram the defense is expected to take a step back from a year ago but just how far will the defense drop?
On the defensive line, the Bulldogs will be thin at the defensive tackle but their strength when it comes to the defensive line is their left end and right end. Defensive coordinator Bob Shoop stated during a press conference that he will likely use some guys that play on the ends to play at defensive tackle to offset the lack of quality depth at the positon. As is the case every year in the SEC, stopping the run is going to determine just how successful the defense will be.
At linebacker this year, this will be one of the most talented LB corps in the SEC if not the entire country. Erroll Thompson, Willie Gay, and Leo Lewis will be able to help an inexperienced defensive line in the run game and also with rushing the passer. Thompson is undoubtedly the best of the 3 while Willie Gay is the better pass rusher of the group. Depth wise, Aaron Brule and Tim Washington will be the primary backups at linebacker. Brule is a redshirt freshman that mainly saw time on special teams when he did play, while Tim Washington is a senior who has gone through the rigors of an SEC schedule.
On the backend of the defense in the secondary, corner backs Cam Dantzler and Maurice Smithermann could end up becoming the best CB duo in the country. Dantzler is a rangy CB that had a successful 2018 season, while Maurice Smithermann isn't as tall or long as Dantzler he ended up stepping up in a huge way down the stretch for a good defense. At the STAR position for Mississippi State, the position that made Johnathan Abram sky rocket to the first round of the NFL draft, Brian Cole will return after missing most of last season due to an injury. At safety Jaquarius Landrews and CJ Morgan will likely play the most time there, but Marcus Murphy and Tyler Williams are good enough to play a significant amount of time if they're called upon to do so.
Special Teams Outlook
The Bulldogs will return a ton of experience on special teams with guys like Tucker Day and Jace Christmann, but Christmann has been pushed by fellow kicker Jordan Lawless at camp so it is unknown who will be kicking the field goals. Day will handle the punting duties, while Scott Goodman will handle kick offs. As far kick return and punt return goes, Isaiah Zuber or Brian Cole will handle kick return while Malik Dear and Cole will split punt return duties.
Effect of Suspensions
Last Friday, it was officially announced that Mississippi State will have to play 8 games without 10 players. According to multiple people, 2 of those 10 players are projected starters while the remaining 8 are depth guys. This does hurt special teams more so than anything because now State will likely have to depend on some starters to play on special teams when they'd normally be on the sideline getting ready to go in. It is unknown who the 10 players are, but there are a ton of rumors out there about what players they might be. Regardless, losing 10 guys to suspension is not ideal but if there is a silver lining when it comes to the suspensions it is that Mississippi State will determine when those guys will sit out of games. They do not have to sit those 10 guys at the same time, they can pick and choose which games those guys will miss.
Overview and Prediction
For the Bulldogs to have a good season, they'll need to stay healthy and need Tommy Stevens to be a better passer than what the team had a season ago. 8-4 seems to be the record most fans come up with and that's about where the record should be this year. It won't be a surprise to see this team reach 9 wins, especially if Stevens is the passer people expect him to be this year. All in all, it's going to be another season for Mississippi State where the defense is the strength of the team and that's a good thing. As it has been said many times, defense wins ball games. This is an important year for Coach Moorhead and his staff, so it's not out of realm of possibility this team surpasses 8-4 and really opens people's eyes. With the first game of the season being on Saturday, the fans will be able to put "tutor gate" behind them and cheer on the maroon and white in New Orleans when they face off against Lousiana-Lafayette at the SuperDome.