It's Time for Keytaon Thompson
Last night Mississippi State fans saw just how bad this offense has become with Nick Fitzgerald at QB. The fifth year senior quarterback threw 4 interceptions in Mississippi State's 19-3 road loss to LSU, something you wouldn't expect from someone with that much experience at QB. Fitzgerald's final state line was 8/24 for yards with a QB rating of 9.8. It doesn't matter how good of a coach you are or how talented your defense is when you can't throw the football effectively on the road in SEC play. It can't be for certain that Keytaon Thompson is the answer at quarterback for Mississippi State, but it sure would not hurt to see what the sophomore from New Orleans can do. He led Mississippi State to a bowl victory over a talented Louisville team in the Gator Bowl in his first ever career start, and in his second career start he led the Bulldogs to a blowout win over Stephen F. Austin. While his completion percentage isn't eye popping, he seems to have better control of the offense and fits what head coach Joe Moorhead wants to do on offense more than Fitzgerald does.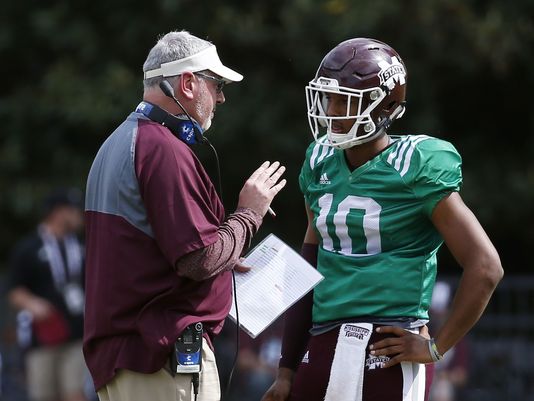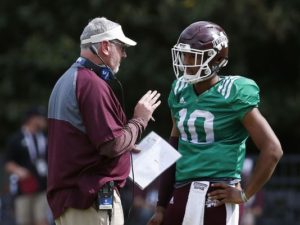 In Thompson's senior season at Landry Walker HS in New Orleans, he threw for 3,825 yards and rushed for 1,434 yards. While Nick Fitzgerald may be the SEC all-time leading rusher for a QB, Keytaon Thompson's talent and skill set far exceeds what Fitzgerald brings to the table. It will be a tough and awkward decision to make for Moorhead if he does indeed decide to switch QBs, though, with Fitzgerald being so talented running the football. Since this season is being considered a wash by a majority of Mississippi State fans, it would be wise for the first year head coach to see what he has in Keytaon Thompson heading into next season. 5 games remain for this year's Bulldogs, 2 of those being on the road at Alabama and Ole Miss, it will be plenty of time for Thompson to showcase his talent and skill set to make his case to be next year's starting QB.