Tupelo claims District Title with second win this season over Starkville
By: Rion Young 
MS High School Sports Page 
Follow on Twitter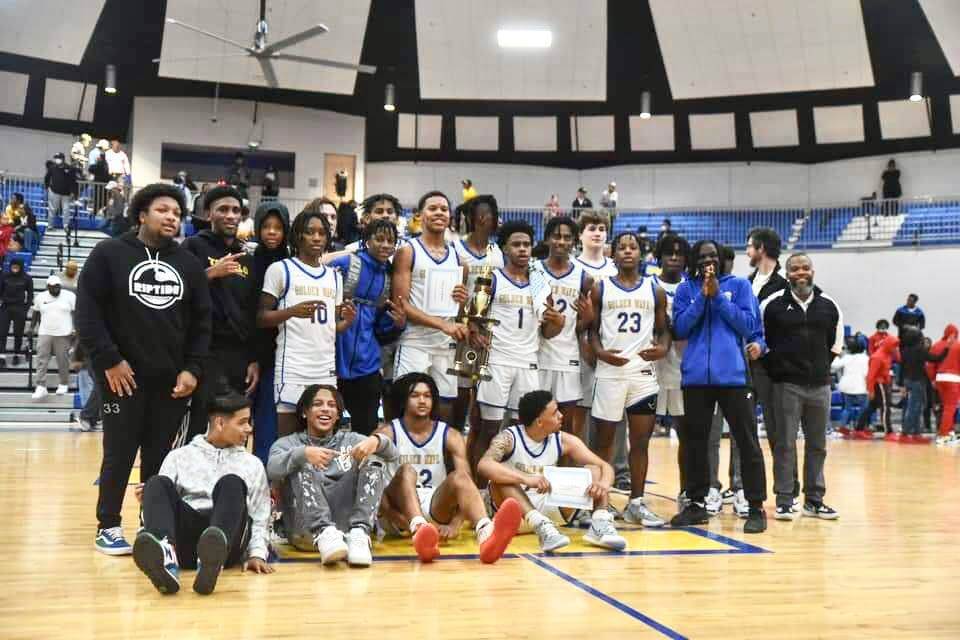 TUPELO– "I bring the dog out in me to bring the dog out of them," was Gavin Shannon's words after their Region 1-6A District Championship win over Starkville! He was definitely a dog on Friday night on both sides of the court as Tupelo defeated Starkville 67-57.
The game started out in Starkville's favor. They jumped out and grabbed an impressive lead 18-9 by the end of the first quarter. Rogers and Myles both were getting buckets early for the Yellow Jackets.
Tupelo would fight back hard in the 2nd quarter.
"I kept reminding them of the work we put in," said Coach Green when I asked about them settling in after the 1st quarter. Tupelo obtained the lead with 3:53 left in the first half. The crowd was very loud and all the momentum had shifted to the Golden Wave.
The fans played a big part in this game. Not often you get a gym that packed with fans standing around and filling the bleachers.
"I believe we just got a little too relaxed once we jumped out to a lead early. This time in the year you can't get comfortable and let your guards down on defense," Coach Howard had to say about his team losing the big lead as at one point of the game they were up 13 points.
At Halftime Makhi Myles for Starkville was leading all scorers with 14 and the Yellowjackets were up 32-31.
In a game like this we all know it will be intense. Both teams share wins this year in the opposing team's gym. Tupelo won the first game 100-93 (Jan 7) and Starkville won the second game 72-57 (Jan 18).
The second half started out VERY exciting. A lot of nice shots by Hayes Halbert helped add a spark to Tupelo's game. He was hitting shots all the way from Verona, MS!
He was also taking it to the heart of Starkville's defense getting buckets.
"If anybody had any doubt in us we took that away," were his words when we caught up with him after the game. I couldn't have explained it better myself.
Starkville fans and Tupelo fans had been going at it pretty heavy on social media since Tuesday night when the game was set. A lot of Starkville fans expected an easy win, and again it seemed to be that way early on.
"I kept telling our team this is what we do!"
Coach Green was very passionate with his team Friday night. You could tell he kept them motivated especially during the back and forth of the third quarter. However, he did a great job of keeping them settled in and not making any unnecessary mistakes. He spoke very highly of the chemistry and relationship these guys have. Basketball is definitely a game of having chemistry. Tupelo is a hard team to beat when all of their guys are moving in unison.
Would you believe me if I told you Starkville was up 50-46 at the end of the 3rd quarter? It may sound repetitive, but that's the type of game this was. It was back and forth the whole time.
Everyone was on the edge of their seats the whole 4th quarter. Shots were falling for Tupelo, but not for Starkville. They outscored the Yellowjackets 21-7 in the 4th.
"Tupelo had a good game plan and they executed it well. They took the three point shot away from us and forced us to finish at the rim," said Coach Howard when I asked about the three point game being absent Friday night. We normally see a lot of threes from Kylan, Makhi and Rogers combined. The Golden Wave played tight defense all night!
"These are two good teams playing each other. I think if we played tomorrow they would win," Coach Green jokingly responded to the teams trading wins this year. Both teams are great teams that are familiar with each other. Another game could easily end in the Yellowjackets getting the victory.
Tupelo will have a first round by after winning the division Friday night.
"We need to lock back in defensively and get back to guarding the way we are capable of if we want to continue in this postseason," is what Coach Howard had to say about his team's fate the remainder of the season. Starkville plays very well when their team is playing great defense and shooting threes. 

Starkville will go on to play DeSoto Central, Tuesday, at home. Tip off is set for 7pm.