Game Thread: 2020 Egg Bowl (Mississippi State at Ole Miss)
It's finally time.
Despite recent worries about scholarship player requirements, the Ole Miss Rebels and Mississippi State Bulldogs are ready to battle for the Golden Egg in Oxford.
The game can be watched live on the SEC Network at 3 p.m.
Meanwhile, real-time thoughts on the game can be found on this thread from multiple contributors here at Sports Mississippi.
Also, make sure to read up on our preview and predictions at the following link:
2020 Egg Bowl Preview and Predictions
GAME THREAD:
Jon- We are about 90 minutes from kickoff and are here in the stadium. Make sure you also follow us on social media for additional updates

Twitter (@socialsportsms)

Hotty Toddy Sports Facebook

Hail State Sports Facebook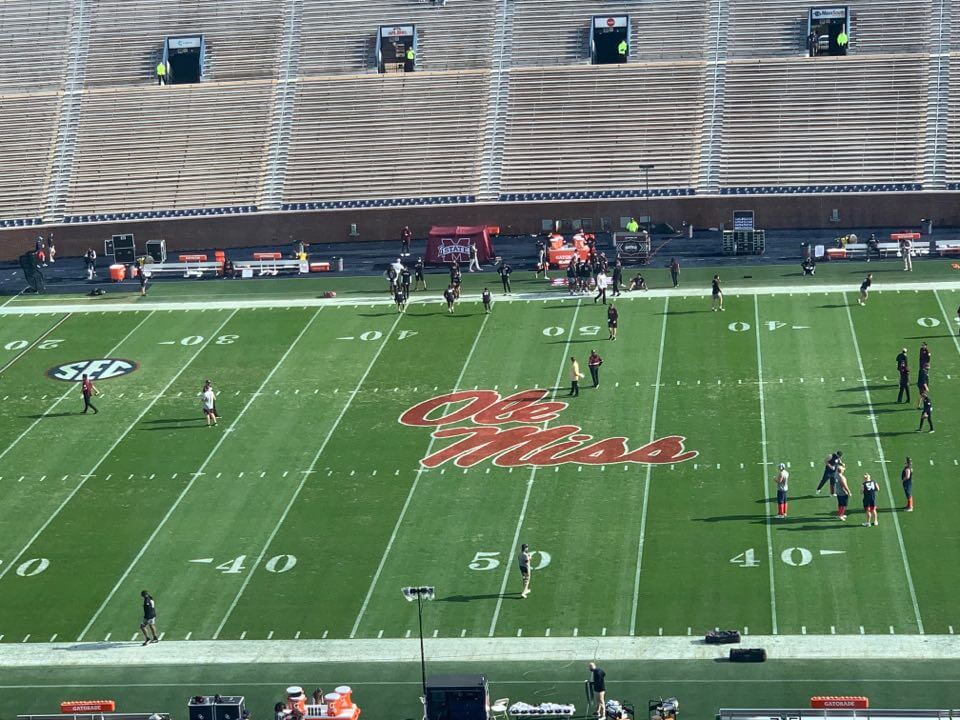 Jon- State appears to have just 50 scholarship players in Oxford today including just two QB's.
Peyton- Bit of a tidbit, Otis Reese is listed as a co-starter at the Star position today. He is still expected to draw the start as he has been called possibly the best defensive player for the Rebels by many observers.
Peyton- Jon said it in our prediction article. He didn't believe the Bulldogs had anyone to cover Elijah Moore. That is holding true early.
Peyton- Ever since the breakout game against Texas Tech in 2018, Braylon Sanders has struggled to stay on the field due to injuries and poor production. Another drop for him there, and it allows Mississippi State to get off the field.
Jon- Ole Miss has gotten a pair of three and outs on defense to start the game. But, as OPT said, should be on the board after the Braylon Sanders drop. Nice field position to start their 2nd drive though.
Jon- Could be a really long day for the MSU secondary. There have been lots of wide open Ole Miss WR.
Peyton- If that hit is targeting, Ole Miss will be under 53 scholarship players like State in no time.
Peyton- Wow. Tylan Knight, the receiver turned defensive back, making the play of the game to keep MSU out of the endzone.
Peyton- The exact response that the Bulldogs needed. What a drive for Will Rogers and Jaden Walley.
Peyton- That is future NFL draftee Matt Corral to you. What a throw on third-and-18. Sixty yards deep and in the only place where the defensive back couldn't get it. 21-7 Rebels.
Jon- Corral has a bazooka.
Jon- That was a must have stop/score from State to end the first half.
Jon- Second bad snap at midfield for MSU on 3rd down. Killer.
Peyton- That was a huge review. Ole Miss needs a score here to recapture momentum that is quickly slipping away.
Peyton- Again, what a drive by Will Rogers and the Bulldogs. His decision-making is excellent. 24-21 Rebels.
Peyton- Every day, Ole Miss thanks their lucky stars that Jerrion Ealy did not choose playing in the MLB. He keeps his legs churning and gets a push from the offensive line to extend the lead late. 31-21 Rebels with 4:30 left in the game.
Peyton- Somewhat surprising to me that they didn't just go for the touchdown there with the offensive struggles. Regardless, onside kick coming up. 31-24 Ole Miss