Horn Lake retires Super Bowl champ Harris' high school jersey
Photo: Horn Lake High School principal Nick Toungett with Super Bowl-winning alum Darius Harris and his son. (Bob Bakken/sportsmississippi.com)
Don't be looking for jersey number 8 on the Horn Lake High School football sideline this fall, or anytime in the future, for that matter.
The only place you will find that jersey number is hanging from the hall next to the school gymnasium, along with other names and retired jerseys from athletes from the Eagles.
That's just what happened Tuesday afternoon, as the jersey number worn by Darius Harris of the Super Bowl champion Kansas City Chiefs was retired during a ceremony held in front of members of the Eagles' football team.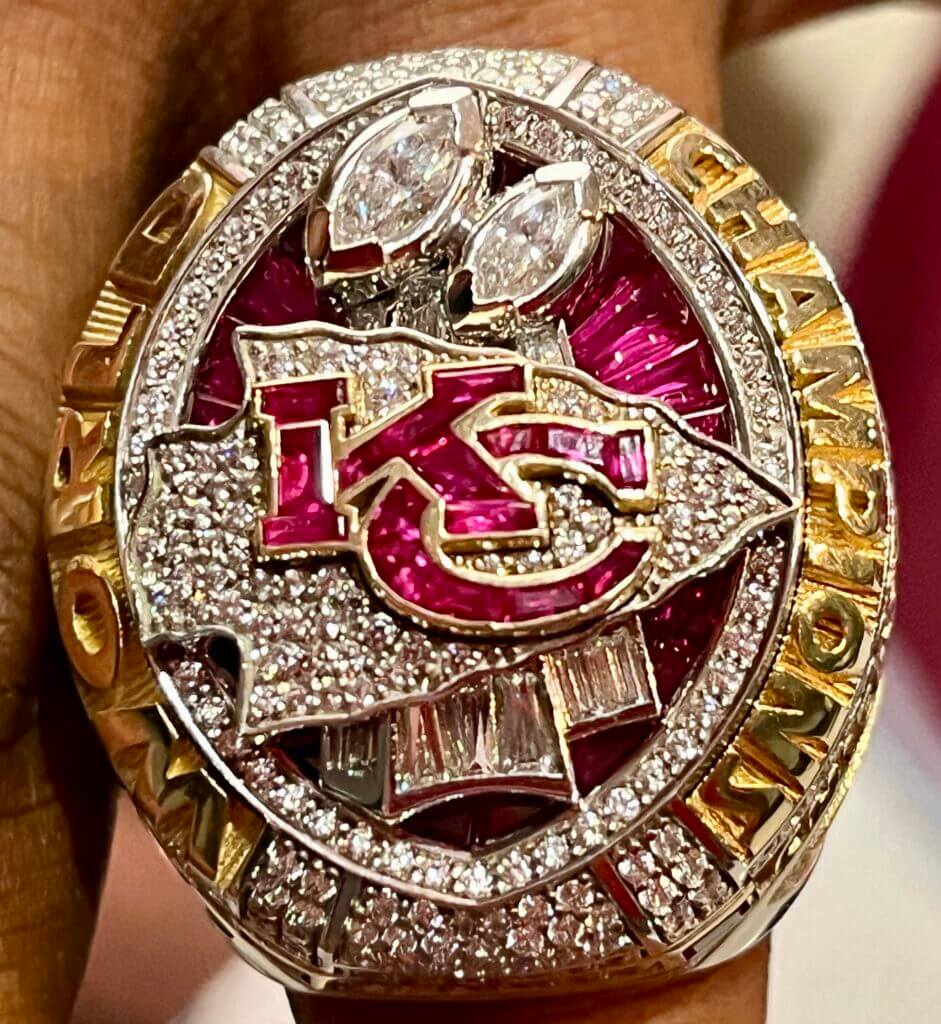 Harris is a Horn Lake product who has won not just one, but two Super Bowl championships in his four-year pro career with the Chiefs. Harris now joins current Horn Lake coach Brandon Jackson as Super Bowl-winning Eagles who have won World Championships in NFL football. Jackson won a ring with the Green Bay Packers in 2011.
"This is something I've looked forward to for a long time," Harris said. "I just remember when Brandon Jackson's #1 jersey was up there and I was not able to wear it, so for now to be able to see my jersey up there with some of the pros from Horn Lake is an honor."
Harris appeared in all 17 of the Chiefs' regular-season contests in 2022 and totaled 43 tackles, 1.5 sacks, one pass defense and one fumble recovery across 278 defensive snaps.
Harris was used primarily on offense in high school at quarterback and as a receiver. He switched to defensive side when he went to Middle Tennessee State, where he became a linebacker.
Throughout his career, Harris said he has felt overlooked. He said he has taken that as inspiration.
"That was my story throughout college, throughout high school and throughout the league," said Harris. "It doesn't determine who you are or what your circumstances are or where you come from. It's all about what's your mindset going forward and what you want for yourself.
To be called a two-time Super Bowl champion has a nice "ring" to it, you might say.
"I'm still trying to get used to it," Harris said. " For me to go to three Super Bowls in my first four years and win two of them, all of it has been a great experience."
Harris' pro football future is unclear at this time, however. Kansas City didn't extend Harris a qualifying offer or tender him as a restricted free agent last month, so he's officially an unrestricted free agent.
Whatever his pro future becomes, one thing is for sure. Harris' number 8 jersey will not be returning to the Horn Lake football field any time soon. It's now in a well-deserved retirement.