Campbell named to coach Northeast defensive backs
Photo: Steadman Campbell has been named as new defensive backs coach at Northeast Mississippi Community College. (Courtesy photo)
A veteran instructor with family roots that run deep in the sport of football is joining the staff at Northeast Mississippi Community College.
Steadman Campbell is the Tigers' new defensive backs coach after working in various roles just across the state line at the University of North Alabama over the past 17 years.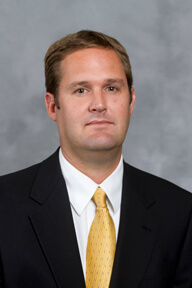 "Steadman's experience is unbelievable," said Northeast headman Greg Davis. "He brings a little bit of a different dynamic to the program because he can see on both sides of the ball what people are doing. Not a lot of guys have made that transition from offense to defense and done it for a while."
Campbell ended his time with the Lions in a tie for the second longest tenured assistant in program history alongside Bill Hyde. He originally came to North Alabama in 2006 as its cornerbacks coach.
His dad, Louis, was a successful coach for more than four decades with stints at the high school, collegiate and professional levels. Brother Shep had jobs at eight different senior colleges, including as defensive coordinator at Ouachita Baptist (Ark.) University from 2011-12.
The father-son duo of Louis and Steadman boast 63 years of combined experience in the industry. Both Campbells were also letterwinners on the gridiron at the University of Arkansas.
"The years to me always start in August with the kickoff of football season. It's all I've ever known," said the youngest of the Campbell boys. "I grew up by a locker room and a practice field. I think it's just something that's kinda in your blood and it's hard to get rid of."
Campbell's list of accomplishments with the Lions is lengthy. Ten of his North Alabama teams qualified for the NCAA Division II playoffs while six of them secured Gulf South Conference (GSC) championships.
He most recently helped the Lions make the move to NCAA Division I as a member of first the Big South Conference and then the ASUN Conference. North Alabama averaged over seven wins per season with Campbell on its sidelines.
The Fayetteville, Ark., native spent his last five years with the Lions as their defensive coordinator. His units excelled at forcing turnovers, including a league leading 14 interceptions in 2021.